About the Artist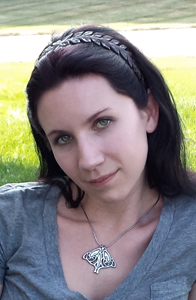 Erin E. Ewer
Born in August of 1986, I graduated from the Rocky Mountain College of Art + Design as a major
in illustration in April, 2008. Since then I have moved from my home state of Colorado to West Virginia, to live with my now husband and two step children. I currently work as a free lance artist and get a lot of support from the local businesses, who love the local art scene and strive to encourage other small business owners.
I have always enjoyed painting fantasy, but also have a strong interest in plants, particularly those
of the medicinal and useful sort. I study herbology in my free time, and am in the process of beginning my own useful herb garden. My fascination is with the more toxic of these plants, and
while I would certainly never plan on using them, growing, cultivating, and propagating these herbs
is a great challenge and i consider them my most beloved of plants.
My newest interest is in the realm of writing, and over the course of the last three years I have achived a huge milestone in completing my first book series, "The Lord of Shadows". This series began as a single book, written as a personal and emotional exercise. After gaining a lot of support I decided to continue the book, and self publish.
Thanks to "The Lord of Shadows" I have descovered a love of writing, and am planning several
more books. My new projects and The Lord of Shadows seriescan be found at ErinEwerBooks.com, and TheLordofShadows.com